Relationship with investors
Uppertruck is a Brazilian startup created in 2016 that presented to the transportation and freight market a disruptive model that united technology, cargo operations with the shared economy.
This business model today reaches a multi-billion dollar market in Brazil that strategically supports the Brazilian GDP and promises even more than 20 years of high-volume revenues.
Uppertruck operates in an under-explored niche around the world: optimizing any load in any vehicle space for any desired route, consolidating batches with high levels of complexity into idle trucks.
The exponential growth of our revenues already reaches the percentage of 20% each year, even in the face of the disastrous economic scenario of the last years in Brazil.
Through its multi franchise plan of operating units, the company is already considered the Air BnB of transportation. Model that can be introduced anywhere in the world by being less bureaucratic, scalable and innovative.
Its operations are led by COO Ivan Ferreira, graduated in business administration from the State University of Paraná – Brazil and an expert in tax and modal cargo transportation systems, acting in this market for almost 18 years.
frankable model in the world
More than 1.000.000 miles per year
+500K professional drivers
Over 40% new opportunities annually
Anual marketshare growth up at 20%
Invest in the Brazilian sector that
never stops!
Braziliang Press
Urbanurban logistics forum
CityLOG
2019, November
Anterior
Próximo
The "Transpodata Magazine"
2019, August
The Transpodata magazine is an important communication vehicle between the industry and the Brazilian cargo transportation sector, which covers cases of high-level business executives in the country and points out the trends for the segment.
The "O Carreteiro" Maganize
2019, July
O Carreteiro, is the biggest magazine focoused in  publications about transportation of loads in Brazil.
With million of copies, all months, the magazine is tell of truckers drives, roads, legislations, truck models, fairs of sector and very others curiousits.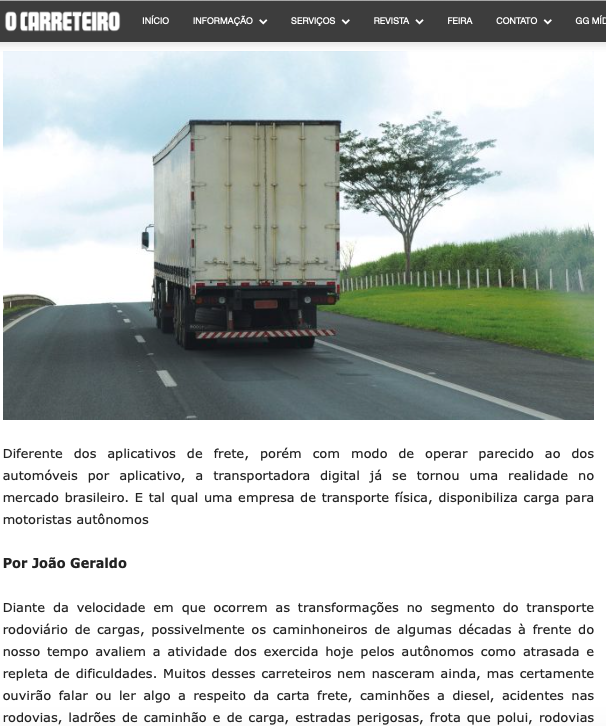 Anterior
Próximo
Tell with ours press acssessorie